((admin can Japanese in real, feel free to speak japanese with admin. although in current situation her keyboard can't type japanese words and will just using romaji. admin sometimes speak japanese to peoples too and adding the translation inside"()"
管理は日本語すこしできる。日本語を使ってもいいんだぜ。))
Do you have something to ask?
(ask a question only in this ask picture below or else i will answer it with only typing)
.:Relation List:.
Taken by:


ナターリヤ・アルロフスカヤ / ベラルーシ (Berarushi / Belarus)
Nata-san. i vow to protect you and love you forever. You're mine and only mine. I love you.....






Clans and Prefecture




会津誉 /会津 (Aizu)
He is serious and loyal man. love food very much, but he can't cook.and don't let him cook for you or you will spend a whole day in toilet.




仙台萩菜 / 仙台 (Sendai)
since the death of One eyed dragon, Date Masamune-sama, she became very weak. until now she often cry even just being scolded a bit. i hope she will more mature in the future.



尾張 (Owari)
Lively and entergentic girl. i often tired just to talk with her. Is somewhat overbearing at times due to her stubborness.



福岡 (Osaka )
Mouthy and cheerful. i often need his help to talk with foreigner as a translator.can cook very well, and i like how he cook the food.



Region Greater Tokyo Area, Kanto


東京 (Tokyo)
My capital. He is hard working man, the most frequently to work with me.



千葉 (Chiba)
everyone almost mistakes her as a boy. he has short hair and always wore a male clothes. I asked her to be more feminine though...-_-;




鎌倉 (Kamakura)
Has Once ruled me in Kamakura period. He's also the first one to be established by Shogunate system, that he called 'The Home of Samurai'.



相模原 (Samighara)
a baka who called other baka -__-; i wonder when he will stop calling other without "baka".



群馬 (Gunma)
She is quick and fast about things, but quite stubborn -_-; .But she is friendly to everyone.



茨城 (Ibaraki)
one word, pervert.-__-;



Region Kyushu



福岡 (Fukuoka)
He live in region Kyushu. the oldest domain that stay with me the longest after Hokkaido.



鹿児 (Kagoshima)
Kind of a bit weird. he is cheerful and a bit playboy. i don't get him.-_-;




長崎 (Nagasaki)
Another weirdos in here. Don't like to be mentioned about the incident of Hiroshima-Nagasaki Bomb Nuclear. and i won't let that incident ever happen again. That's why me and Natalia-san do a cooperation to researching about late consequences of nuclear radiation while Natalia-san has the same fate because she got the largest effect of Cherynobyl nuclear accident.



Region Chuugoku


山口県(Yamaguch)
he is once doing reckless things at Shimonoseki war. He must learn how to analyze the situation and determine whether not to talk more. but he is hard worker man.i like his effort.



島根(Shimane)
a beautiful and cool girl.She own a cat.



Region Chuubu


福井 (Fukui)
Is a intellectual ,studious girl and seems interested in prehistoric things such as dinosaurs. She used an unique dialect.



岐阜 (Gifu)
He is serious and samurai type guy. is center of Katana making in Japan. He don't like influenced of western so he not rally close with Amerika-san and another Europe countries. and he easily to get shy..maa, that's same does like me who can blush easily .///.



長野 (Nagano)
He is an active person though he easily frustated.



Region Shikoku


徳島 (Tokushima)
He lives in region Shikoku.His bussiness luck isn't that good, and rather manage well on agricultural resources.



高知 (Kochi)
She is a bit bossy. i am quite tired to talk with her because she is loud -_-;



愛媛(Ehime)
she is easy going person and used to defended me against Mongol invasion a long tome ago.



RegionTohoku


宮城 (Miyagi)
He like cooking and listening music than fighting. Has great sense of music. He really cares his siblings. We often sing vocaloid song together.


山形 (Yamagata)
A sweet natured and kind of soft spoken girl. But she influenced by western culture a lot. im in good term with her.



秋田 (Akita)
Poetic and strong minded girl. She is sort of 'good big sister' person to all of domains.



岩手 (Iwate)
She is a cute girl, but very shy. She has many famous attractions including the Buddhist temples of Hiraizumi, i often prays on there.



Region Kansai



京都 (Kyoto)
intellegent girl. i often goes to her place to resting when Golden Week or summer vacation comes. She is kind of tsundere. it's might be awkward to talk with her at the first time, but she is actually nice and cute.



和歌山 (Wakayama)
A cheery girl that'll her childish and naive attitude. Peoples might confuse others thinking she's a school age girl despite her actual age >.>



Region Hokkaido


北海道 (Hokkaido)
the oldest region. i love to eat a crab in his house. He is the most normal among all of the prefectures.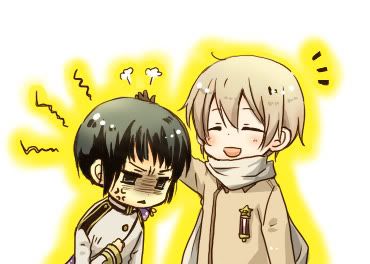 イヴァン・ブラギンスキ / ロシア(Roshia/Russia)
i just hate you so much. give me back my Minami Chiishima/ Kuril Island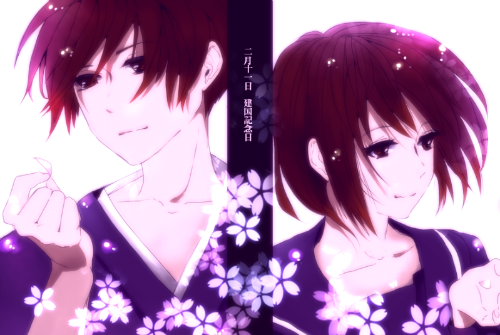 本田桜 / 日本 (Sakura Honda, Nihon / Japan)








Known as my another twin in female version in another dimension. have a nice and yamato nadeshiko attitude. very polite towards other. love Sakura flower very much.